Projects
The Precision Agriculture Engineering research and extension program involves unmanned aerial vehicles (UAV), smart sensors and machinery, automation and robotics, machine vision, artificial intelligence (AI) and machine learning, remote sensing, wireless sensor networks, and big data analytics.Emphasis is being given to developing smart machines and equipment for site-specific applications (e.g. precision sprayer for pests and weeds) in order to reduce agricultural inputs such as herbicides, pesticides or water.
Examples of recent projects include the development of a low-cost, automated, cloud- and AI-based interactive platform to analyze and visualize data collected from UAVs/drones. This automated system can detect, count and geo-locate trees and tree gaps, measure tree height and canopy size, develop individual tree health status maps, predict yield, and develop prescription maps for precision ag applications.
In another project, we developed an automated sensing system to count immature and mature fruit (per tree) and utilized big data analytics and AI to develop early yield prediction models.
We are also developing multi-robot precision sprayers for weed management utilizing machine vision and AI, ground- and UAV-based early disease and pest detection systems, and evaluate the use of a ground penetrating radar to map the architecture of citrus roots (among other projects).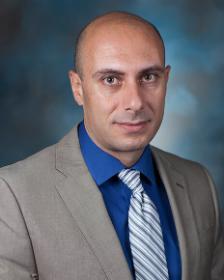 Yiannis Ampatzidis
Associate Professor, Ph.D.
Precision Agriculture