SWFREC History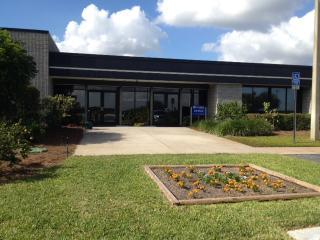 The SWFREC has a rich history, serving not only Southwest Florida growers but also initiating new research and production programs that have advanced agriculture throughout the state.
Establishment of the South Florida Field Laboratory, now the Southwest Florida Research and Education Center, was authorized by the 1955 session of the State Legislature for the purpose of conducting research on crop production problems in the area encompassing Collier, Hendry and Lee counties. The bill authorizing the Laboratory was introduced to the Legislature by Collier county representative J. Lorenzo Walker, who steered it through the House of Representatives. William R. Neblett, at that time State Senator from this District, piloted the bill through the Senate.
After legislative approval, the decision was made to place the Laboratory under the administration of the Gulf Coast Experiment Station, located at Bradenton, and under the leadership of Dr. E. L. Spencer. At that time a committee was formed to determine the location and scope of research of the new laboratory. Serving on this committee along with Dr. Spencer were D. G. A. Kelbert of the Gulf Coast Station; D. L. Lander, H. L. Johnson and C. P. Heuck, agricultural agents of Collier, Hendry and Lee counties, respectively; Norman A. Herren of the Collier Development Corporation, Naples; J. R. Spratt of the Atlantic Land and Improvement Company, LaBelle; and several local growers and cattlemen, including E. F. Moore, J. T. Gaunt, Roy Miller and W. J. James.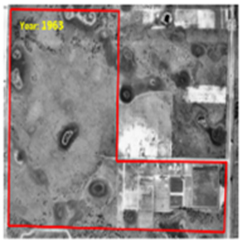 A 320-acre tract of virgin land was donated jointly by the Collier Development Corporation and the Atlantic Land and Improvement Company. This tract has a one-quarter mile frontage along the west side of State Highway 29, about one mile north of Immokalee.
After the site was selected, D. G. A. Kelbert was given leave from the Gulf Coast Experiment Station in order to supervise the initial work necessary to put the Laboratory into operation. Under his direction the boundary around the entire tract was fenced, approximately 40 acres were cleared for cultivation, and construction of a combination office-laboratory unit and an equipment storage shelter was completed in 1957. Subsequent, three additional buildings; a residence, a 32 x 72 storage building and a head house-green­house unit, were constructed.

With the appointment of Dr. Paul H. Everett in February 1958 as the resident faculty member, an extensive research program on vegetable production problems was initiated in cooperation with the Gulf Coast Experiment Station. Areas of research in this program included plant nutrition, land management, variety trials and the control of pests such as plant diseases, insects and weeds.
The principal crops under investigation were watermelons, tomatoes, cucumbers, sweet peppers and cantaloupes. In addition to research on vegetable production, nutritional and variety tests of pasture grasses were conducted. These investi­gations determined which fertilizer programs and which grasses were best suited for Southwest Florida pastures.

In June of 1966, Dr. C. H. Blazquez was appointed to the Laboratory staff as Assistant Plant Pathologist.
With a total of nine full time employees at the research center, including Dr. Everett and Dr. Blazquez, the center worked not only on ways to improve crop production but also solutions to farm labor and water conservation problems.

In January of 1977, Dr. David E. Dougherty was appointed to the Immokalee Agricultural Research Center as Assistant Professor in Plant Pathologist.
During several years, led by Dr. Everett, the research center conducted research on fruiting vegetables, identifying nutritional requirements of tomatoes, watermelons, squash and sweet pepper. Researchers there also developed the use of plastic mulch, drip irrigation, mechanical harvesting, and other advanced technologies that have become essential for specialty crop production in the region.
After several efforts from agricultural leaders and local farmers, state representative Bert J. Harris Jr. announced, in 1985, that the Florida House of Representatives had allocated monies (around $2 million) for the upgrading and revamping of the Immokalee Station. These funds allowed the construction of new buildings, labs, and greenhouses that supported different academic programs and research projects. In 1987, the center was expanded into a full Research and Education Center.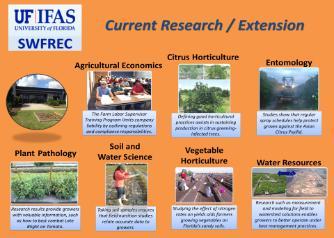 Several faculty came and went during the next years that resulted in important discoveries that improved farming production in the region. During several years, researchers in plant pathology, entomology, soil science, horticulture, irrigation engineering, range science, animal science and economics addressed production challenges of citrus, vegetable, cattle and sugarcane. Also, water quality and wildlife faculty were included to address important overlapping issues between agricultural production and environmental quality and protection.
‌Today, SWFREC faculty and staff are joining their efforts in seven disciplines: Agricultural Economics, Citrus Horticulture, Entomology, Plant Pathology, Soil and Water Sciences, Vegetable Horticulture, and Water Resources.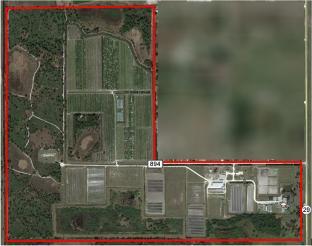 During the 2014 session, the Florida Legislature appropriated $2 million for expansion and renovation of the SWFREC. This construction project expanded the Center from 21,000 square feet to 28,000 square feet, providing labs and offices for six additional faculty and staff, a new graduate study room, and a videoconference room for distance education courses. Project was completed on February 10, 2016.
Agriculture is changing and facing a new era of challenges. With the constant variations in our environment, and considering the importance of protecting and enhancing our natural resources, the government had been increasing their regulations forcing farmers and growers to find a new way of managing their operations and resources and meet the regulations that helps us protect our natural environment.
SWFREC, as a research and education center, is essential to educate the population about the importance of agriculture and in helping farmers and growers by providing them support and knowledge of the latest technology.